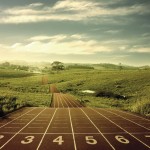 People start and grow new businesses each and every day for a variety of reasons. For some, it is to pursue a passion or lifelong interest. For others, it is flexibility. The motives are all over the board. Predominantly all have some type of financial/profit objective, as part of a large reward at the end of a difficult journey.
Studying the arc of many successful entrepreneurs, it becomes clear that the "reward" at the end of a lot of hard work (e.g. the sale of the company, going public, achieving a specified amount of recurring cash flow, etc) was simply a part of the payoff of the experience. The big "payoff" was the journey itself. It was the formulation of the business; the early refining of the concept; the ongoing tweaks to the business model; and the breakthroughs along the way. It was also in the people involved; the coming home at night to loved ones and friends; and the intrinsic joy of a fight well-fought.
So rather than look forward to a big reward in the future (which is, of course, also very important), make sure to also focus on the now. Enjoy the process each and every day for the small payoffs that occur under our noses. They are a gift, so enjoy!