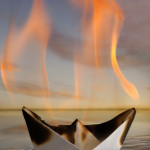 Options are generally seen as a good thing for people in the business world. The more the better, the conventional wisdom goes. While we would never argue that options are not a positive thing, sometimes too many of them can lead people to a lack of urgency – you know, if Plan A doesn't work out, then there are plans B-Z, etc.  People can live in a bubble where the future is bright with all kinds of possibilities and the present is promptly ignored, which of course means that tomorrow's dreams never materialize.
In Robert Greene's "The 33 Strategies of War," he points out the fact that when Cortes went into Mexico to conquer the Azetecs in the early 1500's (with just 500 soldiers, mind you), the first thing he did was burn all of the boats that had brought them from Cuba to what is present-day Veracruz.  Any thoughts about alternative plans for the crew accompanying him vanished.  There would be no going home to the wife and kids and house, or any of the other comforts of life.  The only way to get back at that point would be to actually achieve success in their mission to conquer the Aztecs.  And they fought like lions, and strategized wisely, to eventually find the success that Cortes so doggedly pursued. With a lot of hedging and evaluation of other alternatives, the mission on which the Spaniards had embarked would have almost certainly ended much differently.
And so it is with aspiring entrepreneurs, who are frequently slowed by the many other options that exist either now or in the future. Looking off to a distant horizon is comfortable and fun, while today's challenges and discomforts of an "all-in" mentality are put off. Yes, building a business is a singular concern that requires a person's full attention and energy – today not tomorrow. We are huge believers in forward-looking planning and goal setting, as it is a major part of the resourcestable product set. However, creating a "burn the boats" mentality, and putting all of the often-harmful thinking about all of the "options" that may or may not exist in the future in its proper place (specifically in the garbage away from here and now activities), cannot be overstated.
The "death ground" in battle is the place where soldier's backs are literally to the wall (e.g. pinned up against a mountain or river, etc with no escape) – and that is where people fight their hardest and think their best. Don't continue to be distracted by thoughts of your alternatives. They will just sap your hunger and paralyze the bias to action that is so critical. Put yourself on the "death ground" daily and make your mark today. Fight like there is no tomorrow.